Internapalooza, an event I had not heard of until recently, is as its name suggests, a gathering of interns.  More specifically the event hosts interns interested in working for Silicon Valley companies and from what I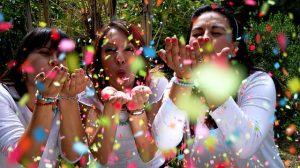 can tell, this July 11th, Internapalooza's fifth annual event will take over AT&T Park in San Francisco with over 8,000 interns registered to attend.  The event offers interns the chance to mingle with their peers, speak with executives from dozens of top tech companies such as Google, Facebook, Paypal, Dropbox, and Microsoft and even play games.  According to the schedule the free event begins at 6:00 and ends at 10:00 but that is when the Intern After Party begins and continues until 1:00 am. 
A viral story about the After Party is how I first heard of Internapalooza.  (I'm a forty-something who lives on the East Coast so cut me some slack.)  A Microsoft recruiter sent the following email to an intern which the intern's roommate posted online. 
"HEY BAE INTERN! <3
Hi! I am Kim, a Microsoft University Recruiter.  My crew is coming down from our HQ in Seattle to hang with you and the crowd of the bay area interns at Internapalooza on 7/11.
BUT MORE IMPORTANTLY, we're throwing an exclusive after party the night of the event at our San Francisco office and you're invited! There will be hella noms, lots of dranks, the best beats and just like last year, we're breaking out the Yammer beer pong tables!
HELL YES TO GETTING LIT ON A MONDAY NIGHT."
Okay so several things are wrong with this letter that Microsoft confirmed originated from them. One is the cringe worthy use of slang in an attempt to sound hip! "Hey Bae"? "Hella noms"?  "Lots of dranks"?  Not only is the jargon embarrassing but evidently it is also misused. "Dranks" which I'm assuming is meant to refer to drinks, is actually slang for codeine cough syrup that some young people ingest to get buzzed. I'm pretty sure Microsoft won't be passing around Robitussin at their party. Perhaps the worst thing about this letter is the ending reference to getting "Lit" on a Monday night.  While looking cool may enable Microsoft to appear more attractive to millennials or the upcoming Generation Z, getting drunk is hardly the vibe they should be promoting.  The letter is embarrassingly funny but not catastrophic to Microsoft's image.
Actually the email does not stray far from the laid back vibe presented for the whole event.  Following is some verbiage from Internapalooza's website, "Here's to the crazy ones.  The misfits.  The rebels.  The trouble makers. The round pegs in the square holes. The ones who see things differently. They're not fond of rules and they have no respect for the status-quo." As I reflect on Microsoft's email and the statement on Internapalooza's website, I wonder if the wrong message is being sent to millennials in an attempt to recruit them?
For years news articles and blogs have been written about how to manage (deal with) Millennials in the work place.  Millennials have been stereotyped as "entitled, lazy, narcissistic and addicted to social media."  And yet events such as Internapalooza supposedly aren't looking for the conformist millennial but rather the "crazy misfit" who breaks the rules.  Do we want millennials who will show up for work on time, focused and ready to do their jobs, or do we want to stay up late downing brews with them on a Monday night?
Do you think a responsible manager will ever exclaim over a raucous game of late night beer pong with his subordinates, "HELL YES TO SHOWING UP LATE FOR WORK ON A TUESDAY MORNING!"?  The answer is "no" and that's your answer to the type of Millennial we really want.