Every organization wants superstar employees and some will even delay the hiring process weeks or even months until that perfect candidate blips on the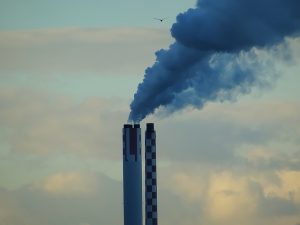 radar.  What happens though if once you find your purple squirrel, they have mange or rabies?  Do you cut them lose or keep them around for their quota busting, nut gathering ability?
Economist Dylan Minor and Cornerstone OnDemand's chief analytics officer, Michael Housman, examined nearly 60,000 workers to determine the cost of retaining toxic workers.  In their study, they define "toxic" as conduct harmful to an organization's people or property.  They found that retaining toxic workers, even those residing in the top 1% for productivity, cost far more than the rewards reaped from a toxic employee's high production.
Their study revealed that a top one percent worker could produce over $5,000 in annual cost savings however a company could avoid $12,000 in costs by not hiring a toxic worker.  In short a toxic worker, even if they are super productive, is far more costly to an organization than an average, non-toxic worker.  Take a look at the chart below provided in their study!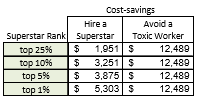 Even though a worker in only the top 25% of productivity saves a company far less than one in the top 1%, the study shows that replacing a superstar toxic worker with a less than stellar non-toxic worker, to still be the more cost effective choice.
Why are toxic workers so much more expensive?  The most apparent answer is turnover.  Toxic workers drive other employees away and the cost of replacing those employees is high not to mention that morale and productivity often drop until a replacement is found.  Additionally toxic workers produce other toxic workers.  Negativity spreads like wildfire.
Interestingly enough, toxic workers are more productive in terms of their output and one 2013 study found that unethical workers remain longer at organizations.  This explains why toxic workers are so often selected and even retained for long timespans.
In summary, avoid hiring a toxic worker if you can but should you find yourself burdened with one or many, remove them despite their high production.  As former GE CEO Jack Welch put it, "People are removed for having the wrong values…we don't even talk about the numbers."